New build of 41 apartments: barrier-free housing design
Lessingstrasse 5, 96328 Küps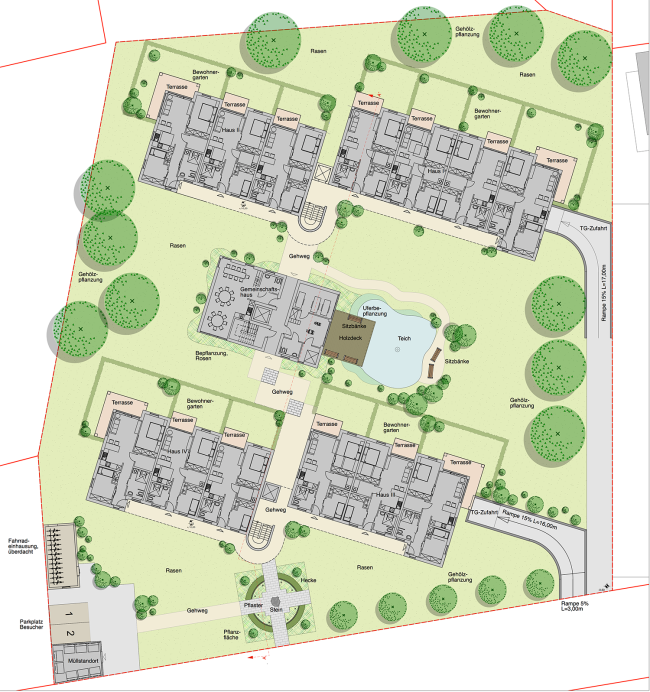 T&Z Immobilien GmbH focuses its activity in catering to the current needs of all generations, and in providing opportunity for investment properties.
Lessingstraße 5 comprises 41 optimally sized apartments, adapting spatial requirements for the convenience of any age group in an easily accessible and supportive environment.
Our thought is towards the individual's mobility, but is well suited for downsizing, retirees, small families or simply as an investment.
Our ideal lifestyle is inclusive, sustainable, oriented towards the enrichment of its community.
General Description
The building is conceived in three levels and an underground garage.
Between the two apartment bodies a community building, exclusively for the use of residents, caters for meetings, home events, coffee/tea pauses and a relaxing reading area. This building has an exclusive access system.
The buildings are oriented towards the south, thereby maximizing the intake of sunlight, creating a wonderful opportunity of enjoying the terraces and balconies in the warm summer months.
All apartments have a garage or a parking bay, with the choice of possible regular 3 metre or 3.5 metre wheelchair adapted parking space.
Each apartment will have an individual, clearly marked deposit room in the underground garage area.
Local Information
In the municipality of Küps, Lessingstraße 5 is at a seven minute walk from the local train station, which links major German train stations every hour.
All shopping needs are also available in the area, together with dedicated medical practices, emergency care and supporting specialist physician offices.